Are you ready to freak everybody out with your frightening feet this Halloween? Of course, we're not talking about how scary your bare feet are — just these fun socks! Our Halloween novelty socks run the gamut from cute and silly to downright scary, with a little something for everyone.
Here are just a few of our top styles for this year's most haunting holiday. Be sure to check out our full frightful collections for women and men before you head out trick-or-treating!
---
Creepy Classics
Ghosts, mummies, candy corn, witches, pumpkins — you know this cast of classic Halloween characters! We've got enough of these fantastic patterns that you just might be able to wear a new pair every day in October.
---
Glow in the Dark!
---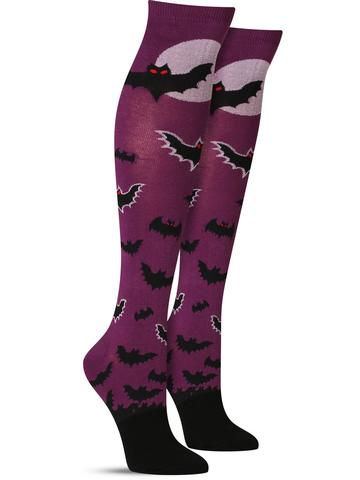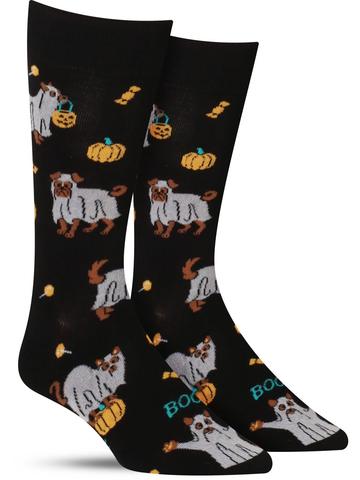 What's that lurking in the night?! Why, it's socks that glow in the dark! Both of these fun patterns are available in a women's knee high and a men's crew style. The moon and bats glow in the Batnado pattern, and the ghost costumes glow in the pattern with dogs and cats. Speaking of pets …
---
Haunting Cats & Dogs
These styles featuring your pets getting into the spirit of Halloween have already proved super popular among our shoppers, and it's early September! We'll do our best to keep these puppies (and kitties) in stock, but you had better nab them whenever you see they're available!
---
Dia de los Muertos
We're also so excited to offer several styles this year celebrating el Dia de los Muertos with traditional sugar skull motifs. These Day of the Dead patterns are a little bit spooky and a whole lotta sweet!
---
Truly Terrifying ... Mwuahaha!
Last but not least, a few patterns that could legit freak a few people out. If you want spiders, scary clowns and werewolves on your feet, Halloween is the time do it!
---
So those are some highlights from our Halloween socks, but you should also keep in mind how well novelty socks can complement a costume! Search for whatever theme you're dressing up as to find the perfect accessories to finish off your look.