We've got some beautiful new pieces in our art gallery, plus we're stocked up on some classic works that any art fan will fall head over heels for!
Art socks have been among our most popular styles for years now, and it's easy to see why. These striking, bold socks feature some of the most beloved images in human history, and who wouldn't want to take that kind of style with them on their feet?
In this season's crop of new spring styles, we've added some interesting artistic additions. Take a look at the latest acquisitions!
---
Pop Art Socks by Shag
We've added three new styles designed by mid-century modern illustrator Shag, who creates funny, kooky characters with a Mad Men-esque retro vibe. These new men's crew socks are dyed with a special 360-degree technique that gives them bold, saturated colors from every angle.
---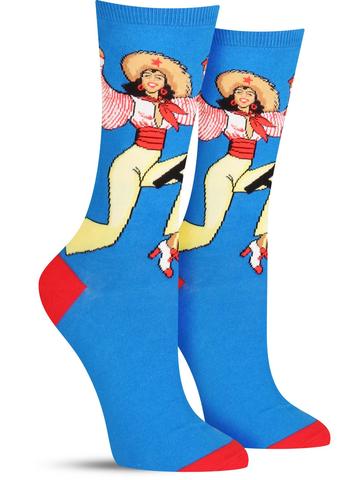 We have a handful of art socks that portray the designs of vintage posters, and this Visit Cuba style is our latest. It's inspired by a 1935 tourism poster that has endured for decades as a cultural icon!
---
The Latest & Loveliest from Laurel Burch
Laurel Burch was a painter, designer, jewelry maker and much more whose line of socks has been super popular among all you art lovers out there! Styles inspired by her prolific works come out each season, and these are some of our favorites for spring. These men's and women's socks feature Burch's iconic aesthetic of bold, color-blocked animals, flowers and other natural motifs, and we just adore them all!
---
Timeless Classics
---
A Tribute on Your Toes
Also, don't forget to check out these fabulously fun socks featuring the faces of some of your favorite artists right on your toes!
---
We love the idea of adding things that make you happy to your daily life any way you can, and that's what's so great about art socks. Some of history's most beloved images can now go wherever your feet take you!