Among our many art socks, those featuring Frida Kahlo are among the most popular. Beyond her artistic prowess, Kahlo was also a feminist icon, and all you sock fans out there seem to really love her!
We're all about giving you what you love, and to that end we've added three new spectacular Kahlo sock designs to our lineup!
Featuring some of her most famous paintings, these socks are from the Masterpiece Series, meaning they are of top quality. Vibrant colors and rich details stand out on these beauties, which are in a unisex style that fits women's shoe sizes 6-9 and men's shoe sizes 7-10.
Check out the new styles:
---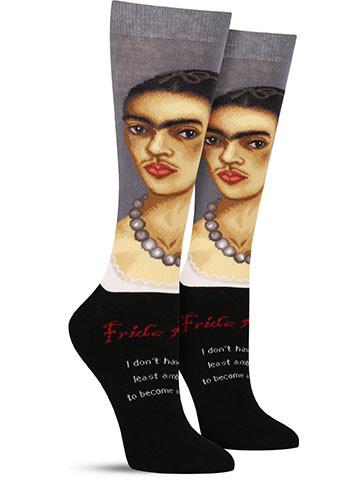 In this 1933 self-portrait, Kahlo depicted herself for one of the first times with a unibrow and hint of a mustache, embracing herself with more confidence than ever before. On the feet of these striking socks is a quotation from the artist: "I don't have the least ambition to become anybody."
---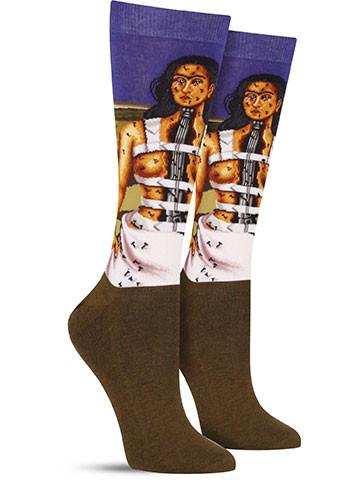 One of Kahlo's most provocative and famous works, 1944's The Broken Column was painted shortly after she underwent spinal surgery. It's one of the works that caused her contemporaries to label her as a Surrealist, although she described herself as simply depicting her own reality.
---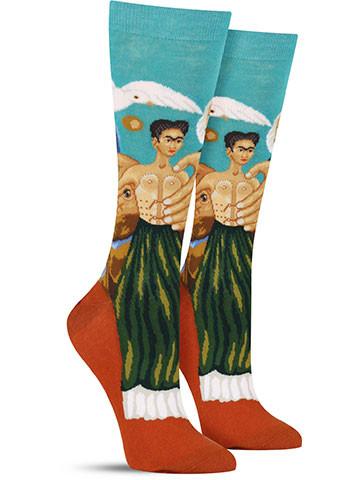 This 1954 painting was one of Kahlo's most political, espousing the Communist beliefs she adopted late in her life. It remained unfinished on her easel at the time of her death.
---
Our Other Kahlo Socks
Although we're thrilled to offer the new socks mentioned above, we also want to remind art fans about our other popular choices!