We make it pretty clear around these parts that we LOVE some silly novelty socks, but we totally understand that you don't always want to show off your wackiness. That said, we know how you can still get your silly on but keep it inconspicuous. Meet our funny new no-show socks, complete with hilarious, punny phrases on the soles!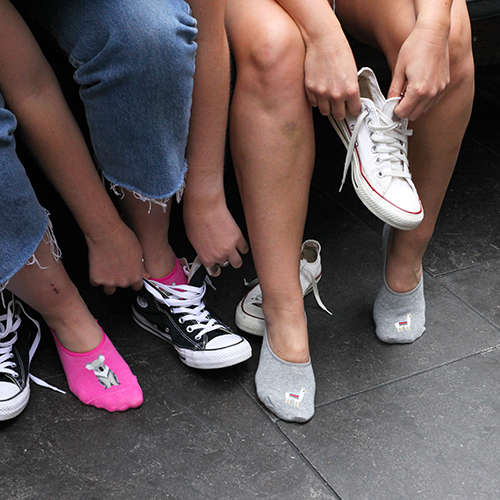 These cuties are technically what we in the sock biz call a micro-crew or liner sock, but you may have also heard of them as ankle socks, footies, peds, shorties or any other number of terms. Whatever you call them, they're designed to stay hidden away inside your shoes while still protecting your skin. This makes them a popular choice for everything from casual wear to exercising, and we've heard from our happy customers that these new styles are particularly good at staying in place all day.
Even more importantly, these women's socks are just plain adorable! Whether you're looking for funny food phrases, cute animals or fun wedding themes, these deliver. They all have a picture on the top of the foot, plus a corresponding image and fun phrase on the soles. They're basically made for Instagram!
They're just the kind of thing that can brighten a long day when you finally kick off your shoes to relax. What's better to put a spring in your step than walking around with a special, silly secret hidden away in your kicks? 
---
Short, Sweet & Punny!
---
BONUS: 3 New Exercise Styles
We also just got in three additional styles that are slightly taller, all in fun exercise-related patterns. They have a small cuff at the top that's ribbed, designed to protect your ankles in workout shoes.
---
All in all, we are loving these fun new shorties, and so are our customers! They make a great holiday gift idea for women you know who like to wear ankle socks. And don't forget to pick up a few to hide away in your own shoes!