Move over, turkey! These fun Thanksgiving socks are the new star of the holiday! … OK, never mind. Nothing beats the turkey. But these socks are definitely something to be thankful for!
We've got funny, festive holiday patterns for both women and men this year. We think these are great for wearing to your celebration or to pass out to your friends and family members as a memento of the time spent together.
Thanksgiving is on its way Nov. 22! Check out these patterns.
---
Funny Phrases
We've got some especially hilarious styles this year that feature funny sayings. For women, there are two: "Gobble till you wobble" and "Leftovers are for quitters." Both pairs have non-skid grips on the bottom, which makes them a great stand-in for slippers. We suggest you wear them around the house when you're hurrying to peel potatoes, baste the turkey, refill the appetizer trays, and on and on and on … Oh, and we have the "Leftovers" style for men, too! They don't have the grips on the bottom, and the writing is on the other side, but we promise they're just as great.
---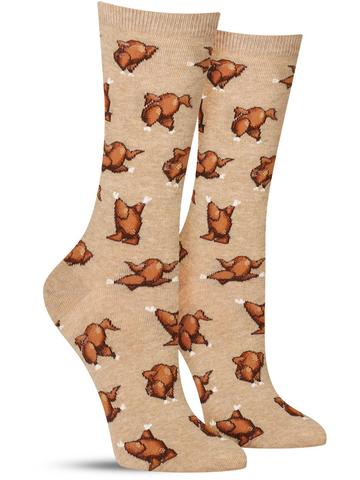 Somebody just got served! These funny socks, available for both men and women, feature breakdancing turkeys. They've already been cooked and pulled from the oven, but instead of lying still on a platter, they're servin' up some fresh moves!
---
Classy Classics
Want something a little less silly but still super stylish? Check out these classic fall motifs of pumpkins, harvest corn, turkeys and cornucopias. These work all throughout the autumn season but fit in particularly well on Thanksgiving day!
---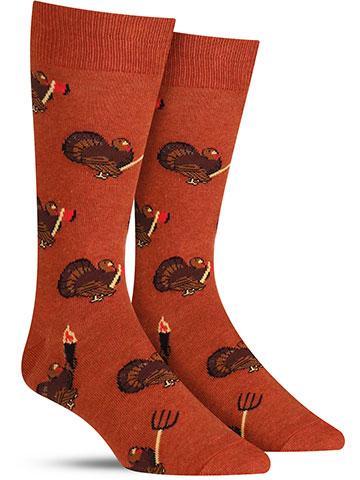 Uh-oh! They're fighting back! On these hilarious socks, available for both men and women, the turkeys have picked up torches, axes and pitchforks, and it looks like they're not the ones getting plucked!
---
All of these styles are a great way to add an extra touch of fun to one of the most festive days of the year. Speaking of which, don't miss out on our Hanukkah and Christmas socks! And if you like to spend part of Thanksgiving flipping through the shopping ads, you should also be sure you're signed up for our email newsletter. You'd better believe we'll have some great sales around Black Friday, and you don't want to miss out!