Cat people aren't crazy — they just love those loco little felines and their cattitudes. And why shouldn't they? If it were up to us, our amazing cats would accompany us everywhere we go (sorry co-workers with allergies).
Unfortunately, that's not how the world works. Instead, we shall resort to wearing cats. Not their fur, just socks. The Sock Drawer is proud to be a purveyor of some of the most awesome, colorful and fun cat socks in existence.
Check out our amazing selection below. Maybe you're not a cat person yourself but you have a loved one who is and need a gift idea. We've got you covered!
---
Colorful Kitties
We have so many cat socks that we've got colors to match just about any outfit. Our selection includes everything from patriotic cats to leopard print. They're a real treat!
---
Black & White Beauties
Who doesn't love a tuxie? These black and white cat socks are graphic but classic, making them great for either work or play. Get your paws on a few pairs.
---
Blue Q Sassy Socks
Blue Q is a company that makes its socks with an extra dash of sass, which is just right for most cat lovers we know. How else could you put up with a pet that has so much of an attitude?
---
Nerdy Delights
Is there anything better than curling up with a kitty and a good book? Don't forget your glasses so you can match your Kittenster socks. And will you read a sci-fi story starring Catstronauts or a fantasy tale with the Cheshire Cat?
---
Just for Men
Crazy cat people aren't just ladies, right fellas? We've got something for you, too, whether you're more into domesticated feline friends or their big cat relatives out in the jungle.
---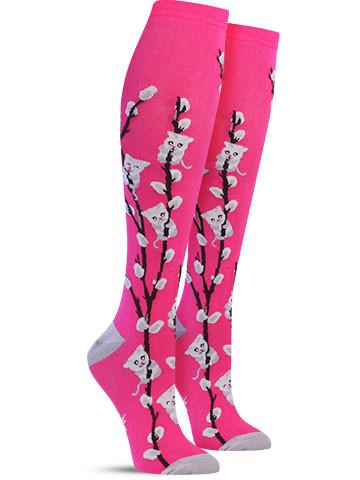 Do you like your cat socks with a big dose of pun-tastic humor? Then do we have the socks for you! These knee highs feature pussy willow branches and a scene where it's raining cats and dogs.
---
Just for Kits ... Er, Kids
Have a little one who is BFFs with the family cat? We have adorable kids' cat socks, too, designed to fit those little paws in both youth and junior sizes.
---
Knee High Beauties
Mee-ow! In these knee high and over the knee socks, you will feel confident enough for a catwalk! With socks like these, it's clear that you're very well groomed.
---
Laurel Burch Cat Socks
The artist Laurel Burch is famous for her colorful and beautiful cats, among other subjects. We have lots of artful options for both men and women, designed to suit your style purr-fectly.
---
And those are just some of our fantastic cat socks! Check out our full selection of styles for women, men and kids to see more.